How to Use Google Advanced Image Search
Jun 19, 2018
Blog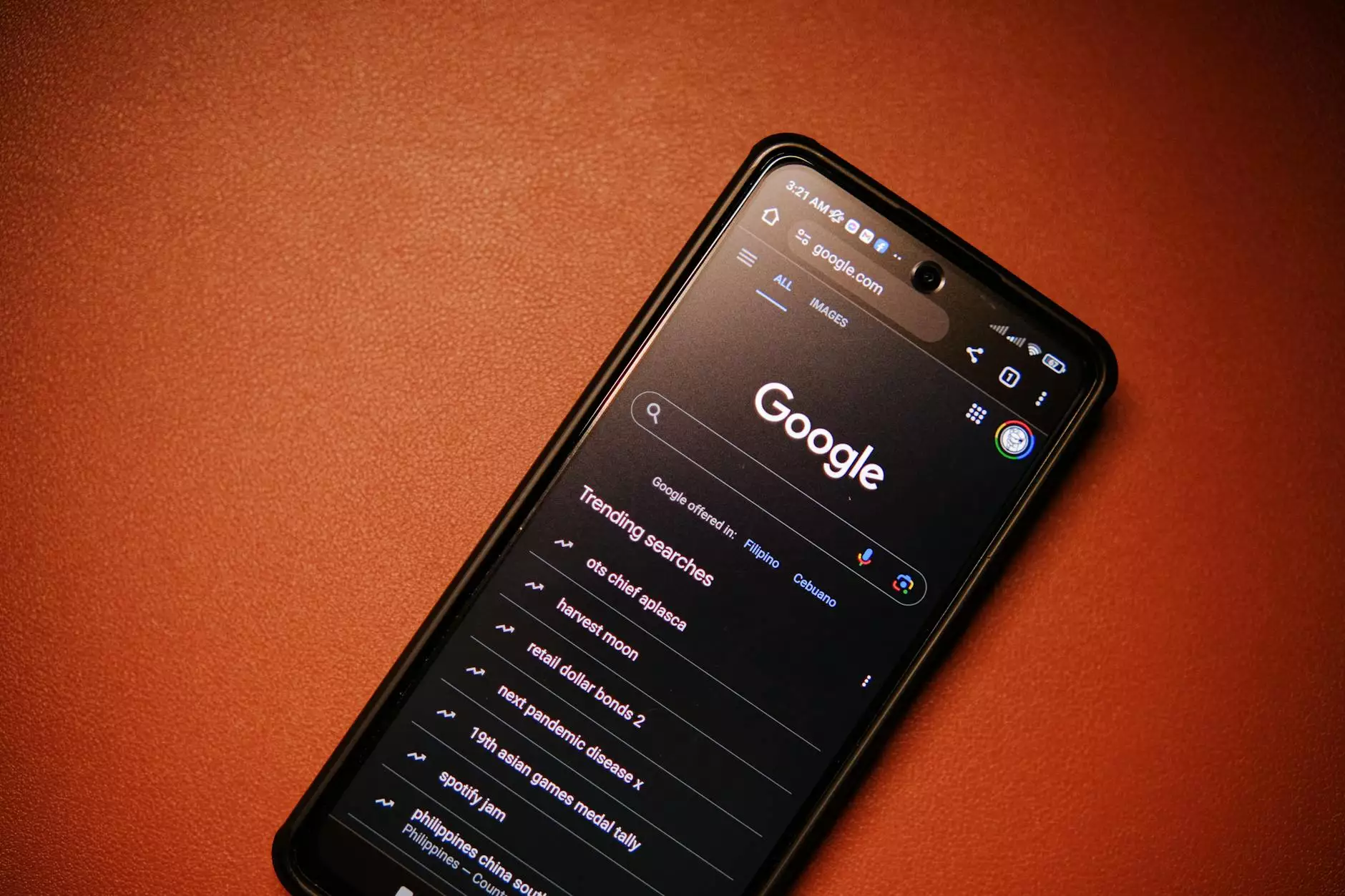 Introduction
Welcome to our comprehensive guide on how to use Google Advanced Image Search effectively. In this guide, we will provide step-by-step instructions and valuable tips to help you find the right images for your business using this powerful tool. Whether you are a website developer, a digital marketer, or a content creator, understanding how to leverage Google Advanced Image Search can greatly enhance your online presence.
Why Google Advanced Image Search?
Google Advanced Image Search offers a wide range of advanced filtering options that allow you to refine your image searches and find the perfect visuals for your website or marketing materials. By using this tool, you can save time and effort by quickly narrowing down your search results to the images that meet your specific requirements.
Step-by-Step Guide
Step 1: Accessing Google Advanced Image Search
To access Google Advanced Image Search, simply open your web browser and go to https://www.google.com/advanced_image_search. This will take you directly to the advanced search page where you can start refining your image search.
Step 2: Defining Your Search Criteria
Once you're on the Google Advanced Image Search page, you'll see a variety of search options to help you narrow down your results. You can enter specific keywords, choose a file type (e.g., JPEG, PNG), set the image size, specify the image color, and even select the usage rights. Take your time to review these options and select the criteria that best match your needs.
Step 3: Conducting a Search
After defining your search criteria, click on the "Advanced Search" button to perform your search. Google will then display the images that match your selected options. Scroll through the results to find the images that appeal to you.
Step 4: Refining Your Search
If the initial search results don't fully meet your requirements, don't worry! Google Advanced Image Search allows you to further refine your search. You can make use of additional filters to sort the images by relevance, date, or image size. You can also change your search criteria and perform a new search to find more suitable options.
Step 5: Viewing Image Details
When you come across an image that catches your attention, click on it to view the image details. From there, you can see a larger version of the image, visit the website where the image is hosted, and explore other related images. This feature can help you gather more information about the image source and determine its suitability for your project.
Step 6: Downloading and Using the Images
Once you have found the perfect image, it's time to download and use it for your business. Most images found through Google Advanced Image Search are protected by copyright laws. Therefore, it's crucial to respect the usage rights and restrictions associated with each image. Make sure to check the usage rights specified by the image creator or the website hosting the image.
Tips for Effective Usage of Google Advanced Image Search
Tip 1: Use Descriptive Keywords
When entering your search keywords, be as descriptive as possible. Think about the specific attributes or concepts you want the images to represent. This will help Google deliver more accurate results that align with your vision.
Tip 2: Take Advantage of Advanced Filters
Experiment with different filtering options provided by Google Advanced Image Search. Adjust the file type, image size, color, and usage rights according to your preferences. These filters can significantly narrow down your search results, making it easier to find the images you need.
Tip 3: Explore Similar Images
If you find an image that's close to what you're looking for but not quite right, try using the "Visually similar" feature. By clicking on this option, Google will show you other images that share visual similarities with the selected image. This can open up new possibilities and lead you to the perfect match for your project.
Tip 4: Verify Image Sources
Before using an image, it's essential to verify its source and determine if it aligns with your brand's image and values. Make sure the website hosting the image is reputable and trustworthy. This helps maintain the integrity of your business and ensures that you're using high-quality visuals.
Tip 5: Consider Customization
If you find an image that's close to what you're looking for but requires slight modifications, consider using image editing software to customize it. Just make sure you have the necessary rights to modify and use the image within the context of your project.
Conclusion
Congratulations! You have now learned how to use Google Advanced Image Search effectively. By following the step-by-step guide and implementing the tips provided, you can find the perfect images to enhance your website, marketing materials, and overall online presence. Remember to respect copyright laws and usage rights to maintain a positive digital reputation. With Google Advanced Image Search, you can easily elevate the visual appeal of your brand and engage your target audience with compelling visuals.
About Brand Builder Marketing
Brand Builder Marketing specializes in providing cutting-edge website development services in the Business and Consumer Services sector. From designing responsive websites to implementing SEO strategies, we help businesses establish a strong online presence and drive organic traffic. Our team of experts is dedicated to delivering exceptional digital solutions that fuel growth and exceed client expectations.